U&I Logistics - A Trusted Partner For All Businesses In Customs Brokerage Service
27/05/2023
U&I Logistics - With over 20 years of experience in providing customs brokerage services, U&I Logistics determines customs clearance as a part of logistics service solutions package aimed at meeting the specific demands of its clients.
1. U&I Logistics – The 1st choice for all-inclusive customs solutions
Recognized by the General Department of Vietnam Customs as a Customs Brokerage Agency under Decision No. 3283/QD-TCHQ for more than 16 consecutive years, U&I Logistics provides a full package of customs services including:
Customs brokerage services
For many consecutive years, U&I Logistics has processed on average more than 100,000 import and export declarations per year. Our team carries out customs procedures on behalf of our clients using the agent's digital signature with all types of declarations as prescribed by the General Department of Vietnam Customs.
Import and export tax consulting services
U&I Logistics team of experts has associated with more than 150 businesses and provided them with cost-cutting and profit-maximizing solutions, as a result of fully trained professional expertise, constant updates on new Customs regulations and experience in consulting & supporting tax compliance.
Certificate of origin (C/O) application services
U&I Logistics performs all range of certificate application procedures for businesses with ease, from C/O at all forms to other special documents such as Phytosanitary Certificate, Veterinary Certificate, specialized inspection certifications, etc.
Document delivery services
U&I Logistics constantly provides solutions for checking and turning over customs declaration documents precisely, punctually, and promptly on schedule to ensure efficiency and effectiveness.
Customs settlement report services
A recently developed U&I Logistics' solution has resolved the most critical issue of all manufacturing and exporting business, by diminishing errors while making customs settlement reports.
>>> Check out more: U&I Logistics Customs Brokerage Services
2. Benefits of using U&I Logistics' Customs Brokerage services
Understanding the role of Customs brokers in customs clearance activities, U&I Logistics has been constantly investing in personnel systems and equipment to provide quality Customs Brokerage services.
U&I Logistics promises all customs declaration activities of clients are performed legally, efficiently and effectively in all situations through the following strengths:
OUR DEDICATED TEAM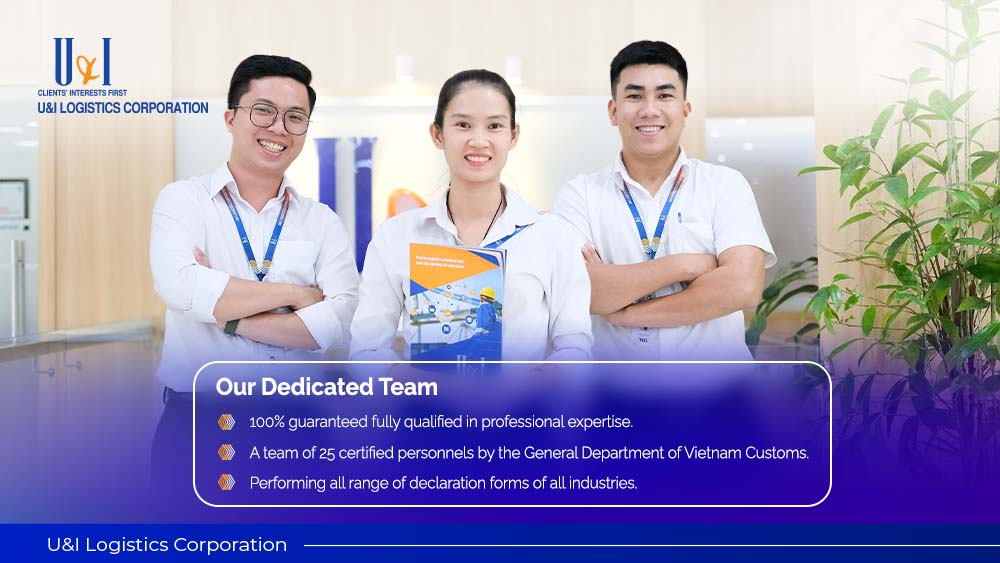 U&I Logistics ensures all employees are 100% proficient in professional expertise; having built a team of 25 certified personnel from the General Department of Vietnam Customs confidently outperformed all types of declarations of all industries with high efficiency and effectiveness.
QUICK HANDLING TIME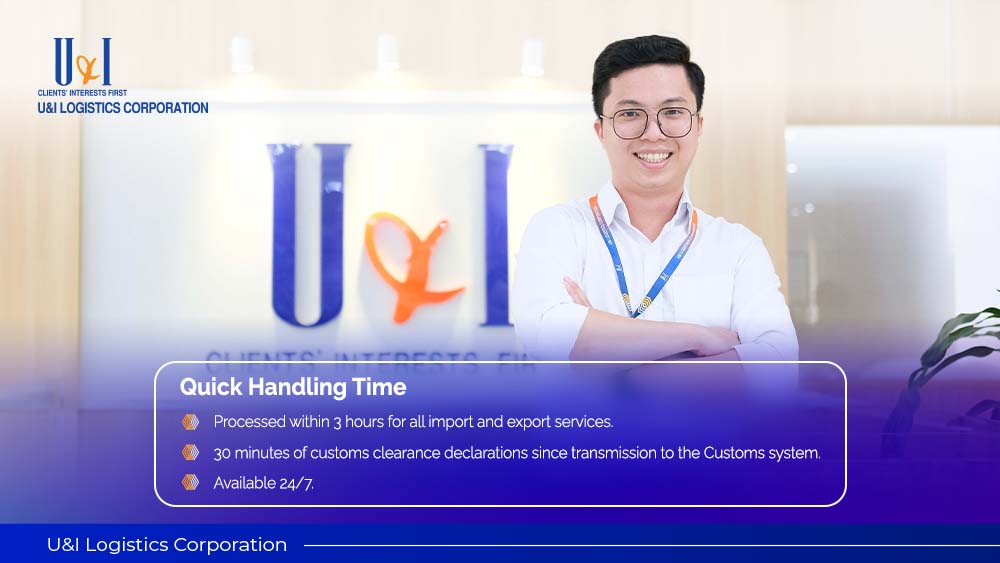 U&I Logistics commits to handle all import and export services within 3 hours, with only 30 minutes to perform customs clearance declarations since transmission to the Customs system. If clients require further supports, our team is available 24/7.
STANDARDIZATION AND OPTIMIZATION OF CUSTOMS CLEARANCE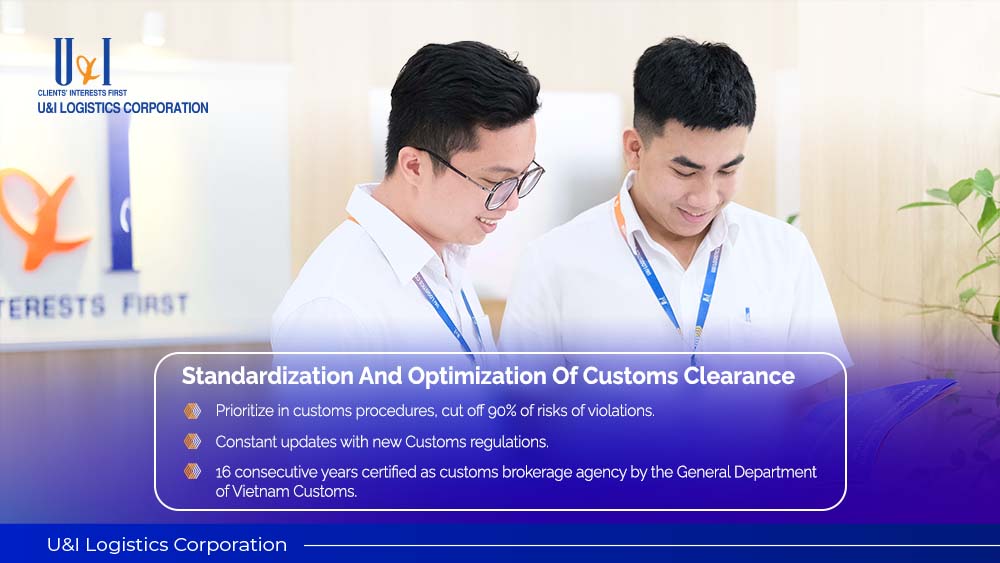 With 16 consecutive years as a customs brokerage agency certified by the General Department of Vietnam Customs, U&I Logistics always updates on new Custom regulations quickly. In particular, the export and import shipments that we undertake will be prioritized in customs procedures in accordance with the provisions of the Customs Law and the guidance of the Ministry of Finance, cutting off 90% of risks of violations.
COMPREHENSIVE DIGITALIZATION PROCEDURES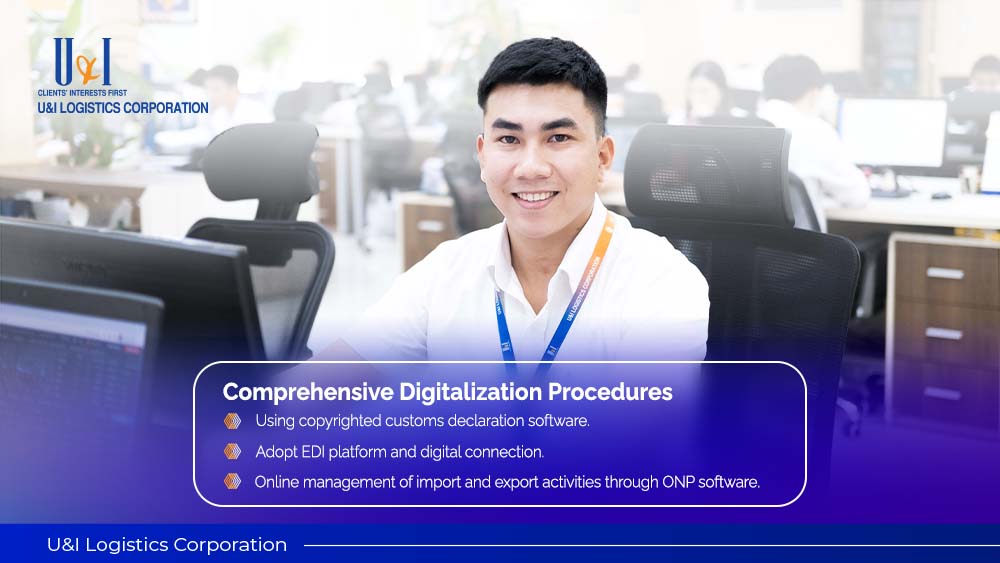 Digital transformation is one of the prerequisite strategies that U&I Logistics is aiming for. Our self-built software programs are linked with electronic customs declaration software to save time and reduce unnecessary errors in customs declaration.
Office No Paper (ONP) software, being built and deployed by U&I Logistics for more than 10 years to manage the flow of shipments, helps ensure all clients' shipments are handled and closely supervised.
With all the above strengths, U&I Logistics Customs Brokerage Agency confidently provides optimal customs services, applies new technology, meets the demands posed during the operation of businesses and optimizes customs clearance costs.
Trusted by clients, U&I Logistics has solved many cases where clients encountered problems because of post-clearance inspection, could not finalize tax because they could not manage the norms of raw materials and accessories, etc. caused by poor quality services, gradually contributing to the effective management of logistics operations of enterprises.
Register here to learn more and receive our services.
U&I Logistics