Vietnam directly connects India by East India - Southeast Asia Container lines
10/04/2022
U&I Logistics – In April 2022, a commercial container shipping route linking India - Southeast Asia is about to be inaugurated to strengthen the network, improve the output and stabilize the supply. In particular, India has its own practical orientations towards the main purpose of connecting sources of goods to customers.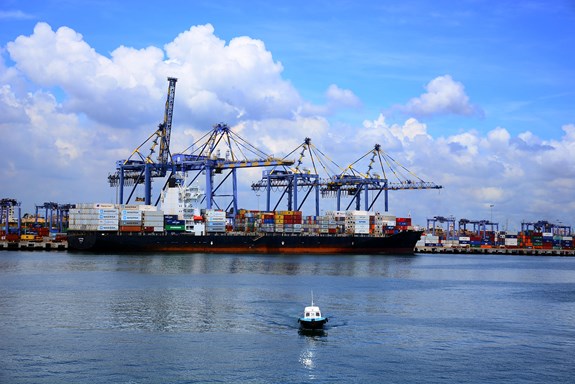 Joint East India to SE Asia service launched
The new service connecting China - Vietnam - Singapore - East India ports will be launched by shipping lines Pacific International Lines (PIL), Regional Container Lines (RCL) and Interasia Lines (IAL) at the end of April 2022. The joint CVI (China - Vietnam - India) service, scheduled to launch on April 22, 2022, uses vessels with an average capacity of 2,200 TEUs, with weekly rotation of Ningbo, Shanghai, Ho Chi Minh, Singapore, Chennai, Visakhapatnam, Port Klang (Westport), Ho Chi Minh, Ningbo. According to available port data, container volumes to/from the south-east of India - with Chennai Port reaching around 435,000 TEUs in February, down from 471,500 TEUs last year.
Chief trade officer Tonnie Lim said: "As a Singapore home-grown shipping line, PIL's strength lies in our connectivity within Asia, as well as between Asia and other key regions in the world. This new service reflects our confidence in the growth potential of India".
Shipping line IAL brands the service China - Saigon - India (CSI), added:
"The CSI deployment will mark another major milestone for Interasia Lines, providing an alternative China to East India schedule to complement its ICI3 and CI5 services. With the additional service coverage for Vietnam and Vizag, Interasia Lines reaffirms its intensive product linkages for East India with the China and South-east Asia markets".
The three partners already have VSA agreements for intra-Asia connections out of India, including five vessels with a capacity of 2,800 TEUs jointly opened in October. This rotates Nansha, Shekou , Singapore, Port Klang (Westport), Port Klang (Northport), Jawaharlal Nehru Port Trust/Nhava Sheva, Mundra, Port Klang (Westport), Haiphong, Nansha.
Read more about: Container shipping route connecting directly Vietnam - the East Coast of the United States
With diverse routes and transhipment, this service has the potential to directly connect the two major ports in Vietnam, Ho Chi Minh and Hai Phong, to India's biggest gateways with reduced transit times, more than 10 days compared to previous transit routes.
U&I Logistics