3 Customs Clearance Risks That Enterprises Operating Import And Export Can Face
25/04/2023
U&I Logistics - As noted by the General Department of Vietnam Customs, recently the wave of customs broker without a license that has emerged more popular in border gates. With low costs, there are a variety of unlicensed customs business from individuals to freight forwarding companies receiving additional customs declaration services, which has reduced the competitiveness of licensed customs brokerage.
The representative of the Customs Management Supervision Department (the General Department of Vietnam Customs) shared that most of customs brokerage agents seriously comply with the requirements of the customs regulations, well implement the periodic report on operation and have the good cooperation with customs authorities. On the other hand, there are many unlicensed declarants and customs businesses that do not sign contracts with owners. They only conduct customs declaration, enter declaration information criteria, hire dock procedures, dispatch vehicles, load/ unload goods while owners still enter the name on the customs declaration, pay the taxes, charges, fees and other expenses according to the legislation relating to exported/imported goods.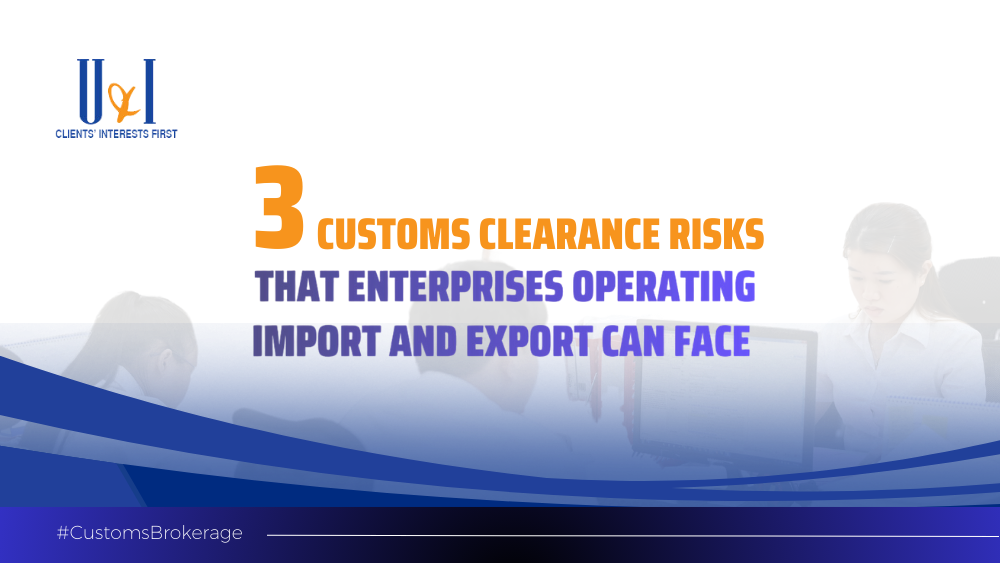 FACING HIGH RISKS OF UNLICENSED CUSTOMS SERVICES
There are main types of customs services, customs brokerage agent, declarants, and unlicensed customs business. In particular, customs brokerage agent has become an extended arm to help information on behalf of the customs authorities to oners and related parties.
However, according to a survey by the General Department of Vietnam Customs, the quantity of declarations that have been signed and sealed by Customs broker accounts is not high, accounting for an average of less than 10% of total import and export declarations. Because of difference in service costs and the apprehension from enterprises when signing agent contracts will be more complicated in terms of procedures. Therefore enterprises still choose to use unlicensed customs services.
Unfortunately, unlicensed customs services are causing many consequences for import-export enterprises as well as customs authorities. Import-export enterprises shall damage significantly higher than financial damage. In reality, there are three risks of damage that businesses can face when using unlicensed customs services.
1. UNSUPPORTED FOR ASSUMPTION OF LIABILITIES
Except for customs brokerage agents, unlicensed customs services usually complete customs clearance and not assume any liability. Meanwhile, Customs inspection procedures lasts up to 5 years, including the inspection of customs dossier, post clearance inspection, Customs annual finalization, etc.
Many owners have related to the administrative violation after the investigation process by the Customs Department. It's about time for owners to require the declarants to coordinate in correcting violations, only owners take fully responsible.
Typical such as owners using unlicensed customs services to declare a water pumps shipment (tax of 15%), this declarant makes incorrect declaration of a chemical pump (tax of 1%). When customs authorities detect violations, enterprises must fulfill of liabilities following regulations of law on customs without unlicensed customs business.
There are cases which the shipment has been granted clearance earlier than scheduled but unlicensed declarant delays taking the goods or gives bogus difficulties and obstacles to force owners to incur additional costs. Another cases which customs documents are simple but the unlicensed declarant neither understand nor willing to understand, thereby guiding owner to do incorrect procedures.
2. LOST OR NOT BE HANDED OVER CUSTOMS DOSSIER
One of the risks that owners may encounter when using unreliable customs service is the loss of declaration. This stems from the fact that some individuals doing unlicensed customs services not have sufficient knowledge of the regulations in customs record keeping, leading to non-preservation of documents.
At the same time, trusting customs services without legal status or Certificate of training in Customs declaration not only causes damage from administrative violations, but also has the potential to not hand over customs dossier, causing great damage when disputes arise.
3. IMPERSONATED TO MISAPPROPRIATION OF PROPERTY
There are providers of customs services not recognized by customs authorities, having neither legal status nor activities that are not related to customs clearance. These providers who rely on the use of referrals and digital signatures of owners to conduct customs declaration, not sign any the customs service agreement between the parties.
Some providers of customs services "hide" in the shadow of import-export enterprises to operate illegally and misappropriation of owner's property. For example, provider can declare customs declaration for many companies based in the same province, then forge customs declarations to appropriate the value of goods from owners.
Impersonating importer, exporter to appropriate assets of some provider doing customs services are investigated and detected by authorities. However, the handling of unlicensed providers will cause owner to delay in customs clearance of goods, their supply chains to stall. If this happens frequently, the enterprises will not only suffer economic damage, but its reputation will also be damaged.
From the above damages, it can be seen that enterprises face many potential risks in customs clearance procedures if they still use unlicensed customs services. The Ministry of Industry and Trade recommends that production establishments and import-export enterprises carry out customs procedures through reputable and qualified customs brokerage agents licensed by the General Department of Vietnam Customs to avoid risks and legal problems arising during customs clearance procedures.
U&I Logistics