Things to know to choose a reputable bonded warehouse rental unit?
24/04/2023
U&I Logistics - In the business process, owning a warehouse is indispensable for businesses. However, with the growth of the logistics market, the bonded warehouse is becoming an economic and effective solution for many businesses. However, in order to choose a reputable bonded warehouse rental unit, businesses need to know some essential things in the article below.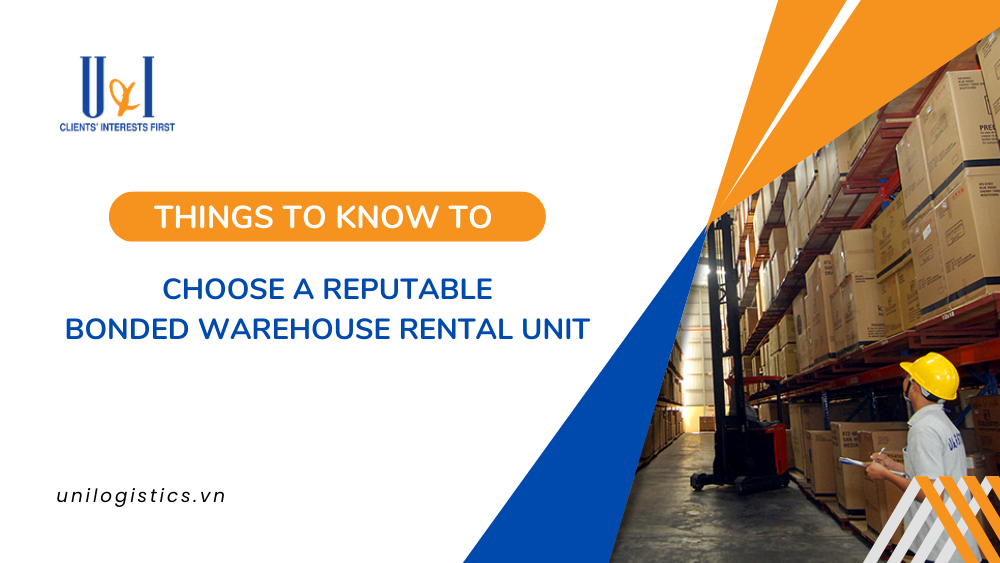 1. What is Bonded Warehouse?
According to Clause 10, Article 4 of the Customs Law 2014, bonded warehouse is the area of ​​warehouse or storage yard for goods that have gone through customs procedures and are sent to wait for export; goods sent from abroad to be sent to wait for export abroad or import into Vietnam.
On the other hand, on the international side, when you often have to deal with foreign customers, you should also know the English term to refer to the bonded warehouse. Currently, in specialized texts and communications, "Bonded Warehouse" and "Bonded Store" are the two most common English terms for bonded warehouses. These terms are widely used globally and are recognized by the World Customs Organization (WCO) as a term—generic term to refer to bonded warehouses.
2. The function and importance of the latest bonded warehouse
2.1 Functions
Bonded warehouses have many important functions in the import and export process and international trade activities. Here are some key functions of a bonded warehouse:
Storage of goods: Bonded warehouses are used to store all kinds of goods of import and export companies, in order to ensure safety and protect customers' assets.

Customs handling: Bonded warehouses also play an important role in customs processing, including import and export procedures, customs declaration and tax payment.

Temporary import and re-export: Bonded warehouses allow businesses to temporarily import goods into warehouses for a limited time without paying import taxes, and then export those goods abroad. This is an effective way to reduce costs and increase business flexibility.

Commercial Dispute Resolution: Bonded warehouses can be used to resolve commercial disputes by storing goods until the disputes are resolved.

Shipping Coordination: A bonded warehouse can be used to coordinate the transportation and distribution of goods to your trading partners.
2.2 Importance that goods owners need to understand
Bonded warehouses play an important role in promoting economic growth. First, it creates convenience for import and export activities, making the goods coordination process more convenient, saving transportation costs and reducing customs processing time.
Second, bonded warehouses are an integral part of the supply chain of goods, helping to ensure speed and efficiency in the distribution of goods to different locations, while meeting customer needs and reducing costs. Minimize risks during transportation.
Thirdly, the bonded warehouse can also serve as a place to store and handle goods, help improve product quality and ensure food safety and hygiene, and provide packaging, baling, and palletizing services and store the goods in a standard environment.
Finally, bonded warehouses play an important role in bridging the gap between countries, expanding consumption markets and improving the competitiveness of enterprises. Therefore, investing in bonded warehouses is considered as one of the ways for economic growth and sustainable development in the current era.
2.3 Benefits that shippers should put in their investment priority list right away
Bonded warehouses bring many benefits to shippers such as:
No need to pay import tax if exporting the shipment, saving capital costs and time for procedures.

Reducing the cost of storing containers when they do not want to import into the country.

Right to transfer ownership of goods and transfer goods to another bonded warehouse or duty-free area for sale without paying tax.
3. Customs of exporting goods to a bonded warehouse
Procedures for exporting goods to a bonded warehouse usually include the following steps:
Sign up and

Customs procedures

Import at the Customs Department: The goods owner needs to register for import and complete the customs procedures at the Customs Department before exporting the goods to the bonded warehouse.

Prepare necessary documents and records: In the process of importing and exporting goods, the owner of the goods needs to prepare all relevant papers and documents such as export invoices, bills of lading, lists of goods. Certificate of Origin...

Transporting goods to the bonded warehouse: The goods owner needs to transport the goods to the bonded warehouse at the registered address.

Carrying out import and export procedures at the bonded warehouse: After arriving at the bonded warehouse, the owner of the goods needs to carry out the import and export procedures here. This includes inspecting goods, making stock receipts and ex-warehousing, updating the list of goods and customs-related procedures.

Storing goods at a bonded warehouse: After completing the procedures, the goods will be stored at the bonded warehouse until the owner of the goods carries out procedures for exporting abroad or importing them inland.
The process of exporting goods to a bonded warehouse may vary depending on each warehouse unit and the requirements of the customs authority. Shippers should carefully consult the specific regulations and procedures before proceeding to export goods to the bonded warehouse.
4. 8 criteria to choose a reputable bonded warehouse leasing unit today that the owner needs to know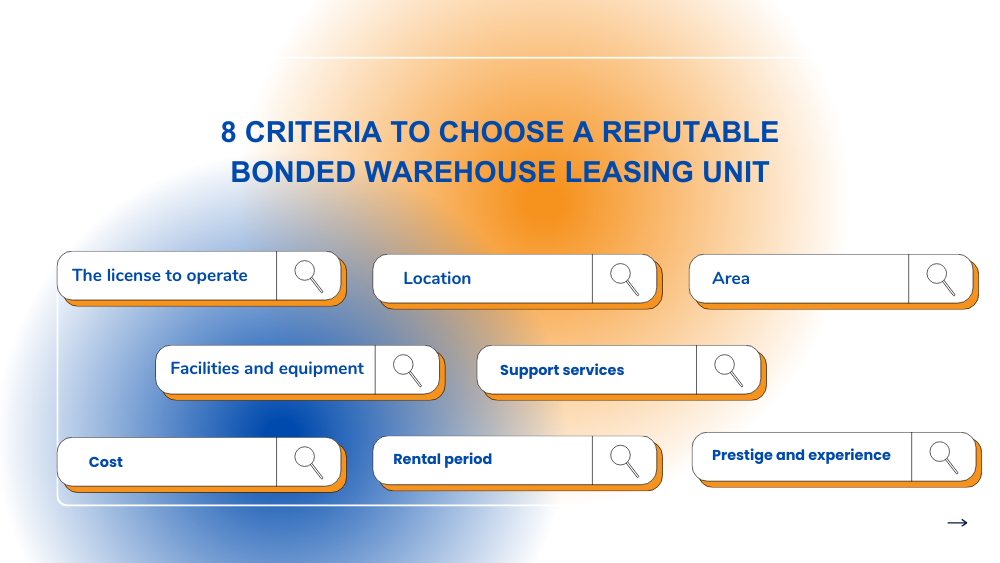 To choose a reputable bonded warehouse leasing company, the owner of the goods needs to know the following 8 criteria:
One is, the license to operate: Shippers should check that the warehouse leasing unit has a legal operating license to ensure the legality and avoid legal risks.
Second, warehouse location: Warehouse location is also an important factor when choosing a bonded warehouse rental unit. The warehouse needs to be located in a convenient location for the transportation of goods and has a full range of support services such as delivery, loading and unloading, etc.
Third, warehouse area: Shippers need to assess whether the size and area of ​​the warehouse is suitable for their storage needs.
Fourth, facilities and equipment: A reputable bonded warehouse leasing unit must have adequate facilities and equipment to protect goods and meet safety, security and control requirements.
Fifth, support services: Bonded warehouse leasing units should have professional support services such as forwarding, loading and unloading, and goods counting to support shippers in the process of transporting and storing goods.
Sixth, rent: Shippers need to compare bonded warehouse rental rates of different units to make reasonable decisions and save costs.
Seventh, rental period: Shippers need to determine the time to rent a bonded warehouse to ensure flexibility in the process of transporting and storing goods.
Finally, prestige and experience: Shippers should learn about the reputation and experience of the bonded warehouse leasing unit in the market to make a reasonable decision and ensure the safety of their goods.
5. U&I Logistics - The largest bonded warehouse in the wood furniture industry in Southeast Asia
U&I Logistics Corporation is proud to be a reliable logistics and distribution service developer in Vietnam thanks to owning the largest bonded warehouse system in Southeast Asia with a capacity of more than 2,000,000 m² is located in key economic regions across the country. U&I Logistics logistics system is equipped with modern infrastructure, and technology in accordance with C-TPAT standards of CBP USA and ISO 9001 certification such as: Modern warehouse management software (WMS), management system goods by code, automatic dehumidification system to control humidity and insects, etc.
Logistics and distribution services include:
Goods distribution center

Add-on services (palletizing, packing/repacking, sorting, printing/labeling, distribution, barcode and support solutions, etc.)

Process the documents
As a result, U&I Logistics has received the trust of many prestigious strategic partners such as Saigon Co.op and Trancy Logistics and is confident in providing practical solutions to meet all the rigorous needs of each customer.
U&I Logistics